This blog begins with a bummer. Coming off a successful race at the Rio Olympic Test Event, I brimmed with confidence at the Stockholm WTS. A feeble swim that left me in the chase pack and 80 seconds behind at the run start was the least of the worries. With about 700m left in the run, I felt my foot break on the cobbled course. I still posted a top 10 run split and earned enough points to be leading the US Olympic qualification, but the World Championships were only four weeks away with many more qualification points on the line.
Coach Sousa and I decided that if we did everything right, there was a chance my 4th metatarsal stress fracture could heal in time to race. That meant some serious quality time with a boot, a bone stimulator, and dry needling.
I even made a pretty awesome orthotic to try to relieve the pressure on my fourth metatarsal. Almost went with a foot cast, too. 
And needless to say, I swam a lot. I peaked out at around 60k per week with double pull buoys and no flipturns. This protocol was only bearable because Mr Billiam Huffman was under the same restrictions. By around week three, I could swim and bike normally, but running was obviously non-existent. I tried to make up for that with squats in my fracture boot and tons of aqua-running.
Sadly, a last minute x-ray showed I wasn't quite healed enough to race in Chicago:
Back home, preparation turned to the miracle working Alter-g. I couldn't run more than every other day starting at around 60% BW, but it gave me time to develop some other skills:
Finally at week 8, with a whole 10 days to prepare for the Tongyeong World Cup, my doc said my foot was healed!

I tried two Alter-g runs building to full BW and even a run on a real treadmill to make sure my foot held up before jumping on a flight to South Korea.
I felt like Matt Damon in Rounders, with the KGB's Olympic points taunting me to race.
Race week was slightly terrifying. I did a couple runs with minuters to sharpen up my legs. My foot was fine, but after each run my calves were wrecked. I just went with the fact that these were tune-ups and not tune-downs.
I knew I had to be in the top 13 to improve my ranking and with very limited fitness, that would require flawless execution. It was time to get amped. It was time to start drinking some green tea and stealing some hats.
With all the swimming I'd put in, I was confident I'd get out of the water well. That didn't stop the swim from feeling awful, but I entered T1 comfortably in the top 10, just 4 seconds back of Mr Kanute, the first guy out of the water.
The ride was solid.
There were a bunch breakaway attempts and I went with the most likely, but each time the pack said 'you ain't getting away' and we were roped back in:
With 60 guys together going into T2, I was prepared for the worst/most painful run of 2015.
First lap I was around 30th, but I kept moving up the field and my impending explosion somehow stayed impending. With about 400m to go, there were 5 of us vying for 5th. First Perez made a move, then Saracho dropped while Sarmiento came around and Tellechea started falling back.
While I leaned at the line, Sergio threw up his arms. His chip cross first, but my chest counted and I finished a very satisfying 5th.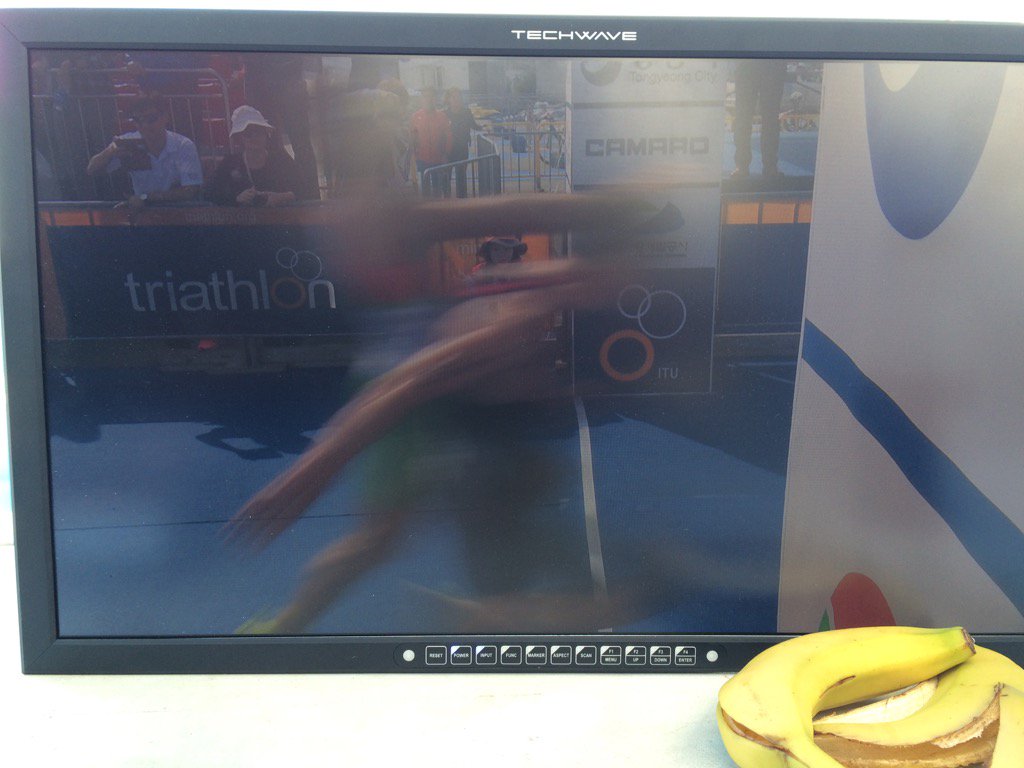 While I knew I had the base to pull off this kind of performance, I was still blown away it had actually happened. Despite missing some very key races, the result places me as the 3rd US athlete on the ITU points list, which should be enough to guarantee me a spot at the final trials race next year. So, Bam! Very thankful to Paulo Sousa and USA Triathlon for figuring out ways to help me prepare for this final race.
And now for your inspirational quote of the blog post: